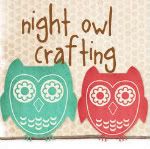 One of my feeds suggested that I check out this blog hoppy.  I've linked up at the top and also in my side bar if you want to play..  So here I am checking out and seeing if I can make some new friends on the way.  That would be wonderful, wouldn't it?!  So here are my answers to Leslie's questions this week.
Here are this weeks questions!
1. Do you sing in the shower or car when no one else is listening?
Yes I do, do, do.  I sing at the top of my voice and give my vocal chords a really good stretch.  Specially when I am in the car.  I do sing terribly, but you know I don't care.  It makes me as happy as larry to sing.  I think singing changes your mood for sure.  I sing, I hum, I la la la.  Love it!
2.  Do you have a nickname you go by now or growing up?
When I was young I was refered to as the baby lol!  Growing up in a house full of adults well I mean I was the only baby in the house ha ha ha!  Now my nickname is flutter.  I chose this name yonks ago and I mean yonks. It is associated with a butterfly, they flutter their wings and learn to fly, they dance on the wind never staying in one place, always searching.  But if you keep still enough it may land on you and you will know your life has been touched.  Well words similar to that, which reminded me of myself, never settling long enough to get attached to anything, but when I do settle I hope the impact is noticable lol!

3. Do you speak another language?
Yes I speak, french but only when I get really annoyed!! **GRINS**
4. Where is you favorite vacation spot?
My favourite place on the planet is America and I would love to see it properly for all it is.  But my Favourite place in the UK is cornwall, I feel that God made that place just for me.  It's where I am at my most peaceful.  The place itself is a stunning array of grassy meadows, beautiful coastal views and wonderful little villages that make you feel welcome.
5. What do you cook the most for dinner?
Toast LOL!! I ab-so-lute-ly hate cooking.  I would rather have my fillings done with no numbing stuff, I would rather eat glass, I would rather, stick pins in my eyes, I would rather have my fingernails removed, I would rather have my ................Oh ok you get the message ha ha ha..
Thank you Leslie for allowing us to play x