Weeeeheeeeeeeeeeee!! I'm playing again.  I do love playing along.  Not only do I love to answer questions, I love to share them too.  So here is my Hoo Are You's for this week
1.  What is your Zodiac sign?
I'm a Libra the ditherer and the funny thing is that I am actually a Libra.  Balanced I am not, wobbly I am lol..  Here is my characteristics from some random online thingy..
The Bright side of my scales..
Charming, easy going, romantic, diplomatic, idealistic, refined, in love with love, likes pretty things.
The Dark side of my Scales.
Indecisive, resentful, frivolous, changeable, flirtatious, easily influenced, highly susceptible to flattery, restless.
2. Name 3 things that are always in your purse besides your wallet.
Oh I had to think about that, because my purse is my wallet in English lol.  So what do I have in my bag?  OK I hate bags, I just find them so annoying.  In mine must  be, my house keys, my phone, tissues and a mint.  (just in case Jensen Ackles wanders into Clacton and snogs my face off)
3. Which magazines do you look at the most?
None of the tabloidy rubbish ones, which tell you about what colour Taylor Swift's knickers are. I prefer my crafting mags.  Which are monthly so every month I tend to have a huge pile.  But I only buy them if I like what I have seen first, I don't buy them willy nilly lol.
4. Do you pluck or get your eyebrows waxed?
Well at the moment, I am not doing either.  I used to have them waxed and then pluck out the straggly ones.  I'm quite liking not having the hassle of keep on maintaining them..  Surprisingly it doesn't look like my moustache has moved up above my eyes either.
5. How often do you go grocery shopping?
Too often and I Hate it.  Maybe 2 or 3 times a week.  My 2 boys are like truffle snorters, they eat everything and anything that's not attached.  I do actually fear for my life when they go foraging for food.  I dare not go in the kitchen just in case they toast me or something..  So yes I shop a lot.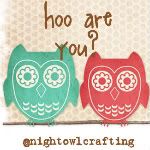 Great stuffio..  I hope you join in too let me know and I will pop over for a visit..
Thanks for reading x